An article by : Hamid Shafaghi , IFMGA mountain and ski guide
Hamid.shafaghi@gmail.com
Alamkuh summit is the second highest summit in Iran with 4851 meters elevation . The northface of Alamkuh is the ideal place in Iran for series of technical climb and ascents . German flank is the wonderful technical rocky ridge to the summit .
Every year many climbers try to push on this summit from it's north and south face . The north face of Alamkuh is very technical and includes several wonderful ridge and a famous northface wall . The normal way to reach the north face of Alamkuh is to drive to Kelardasht city from Tehran ( around 4 hours drive ) then drive to Hasankeyf and Vandarbon hut ( Vandarbon is the federation hut and it has dormitory and private rooms available ) .It has also a climbing gym available !
From Vandarbon , with a 4 hours trek , you could reach to Sarchal hut at the altitude of 3700 meters . This hut is a key to climb to a number of big summits in the area .
From Sarchal , you could trek up to Alamchal glacier at the altitude of 4100 meters . From Alamkuh glacier and from Shanehkuh pass , the rocky technical German flank starts to rise . Climb is technical and needs to have the proper knowledge of rockclimbing and multi pitch climbing . The climb is also very exposed but not difficult .
German flank , photo by : Hamed RazaghiThis rocky ridge to the summit is the most technical and easiest technical route to the summit of Alamkuh . But what is very amazing about this rocky ridge is "Samovar stone " on this ridge . This iconic rock is amazing and spectacular and a huge rock stands on just a smaller rock . There were 1 artifical route on this rock but nowadays people try not to climb it to keep it safe and secure !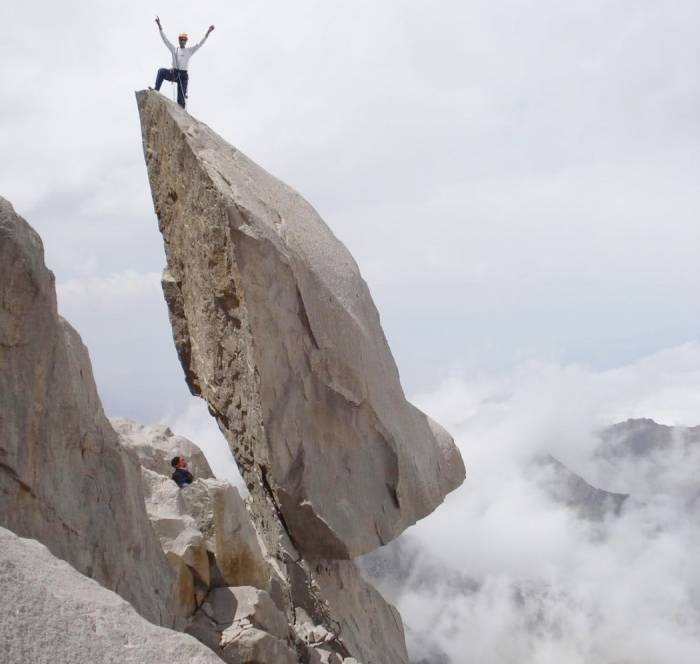 Please let us know if you need any further information about Alamkuh .
Want to book a tour to Alamkuh and Damavand , follow the following link :
Lashgarak 4200 + Alamkuh 4850m + Damavand 5610 m trekking tour